Haydee Pelosi

Haydee Pelosi is my name. I am truly an international mix, born in Argentina of a German Pharmacist Mother and an Italian Mechanical Engineer Father. Mother and father had left Europe in the 1930's seeking a world at peace. Buenos Aires, Argentina was considered the Paris of the western world. My early life was stable, loving and filled with culture.
To avoid two revolutions in the late 1940's my brother and I were sent to Europe for our education, first Innsbruck, Austria, then Rapallo, Italy. My childhood dream was to live in the Unites States, but it took a nightmare in order to make the dream come true. During one of the revolutions, my brother was injured during a bombing and we had to seek specialized treatment for his eyes in New York.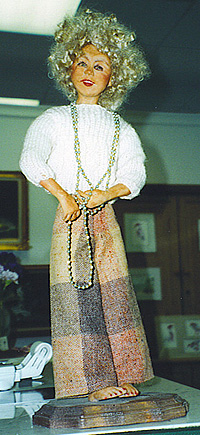 Being the oldest in the family, a mature but idealistic 17, I had to assume the responsibility for my brother's care. Unfortunately, my brother was permanently blind. My brother and I were able to survive in New York because we had learned to speak English as children. English was sort of a secret language that we could use in Argentina that few understood.
Luckily, my Grandfather had encouraged my art since I was a very young child. Art was a positive in my life in New York. My brother and I lived in Greenwich Village, where now famous historic artists and authors were just people in the neighborhood. I painted the city scenes at the corner of McDougal and Bleecker Streets, famed for street artists. Art was an escape from the memories of revolution, my brother's blinding and missing my family. During my later life in New York, oil painting continued as a hobby, the work good enough that one ended up in the office of the President of Argentina and one in the collection of an American President. Eventually asthma brought my oil painting to an end.
I was married for many years, but suddenly found myself single. Since then, I earned a degree in Women's Studies at University of Central Florida and am now finishing a Masters in Special Education at Nova Southeastern University. I have my certification in Special Education for the No-Child-Left-Behind program for less fortunate children.
Once an artist – always an artist, I could not leave art alone. Eventually I was introduced to "One-of-a-kind Sculpture" in polymer clay. I have been doing these small people for about ten years. They are referred to as "Figurative Art". They are not cute dolls, they are not cold sculptures, they express the reality of being human and possess the warmth of being very human in character. These Fine-Art-Representations and Busts that you see at this gallery are all hand made. The sculpted figure and the clothing are from my mind, heart and hands. Each is unique and you can be the proud owner.
Thank you for your interest,
Haydee Pelosi